G-Shock is the name of a famous collection produced by a famous Japanese company Casio for over 35 years. The first item has been created on the grounds of a worldwide demand for a totally resistant watch and it totally beat the competition on the sports watches market. It boasted a 10-year battery, 10 bar (100 m) water resistancy and could withstand a free fall from 10 metres on a concrete road! The designers made sure to guarantee the latter by throwing 200 pieces of this watch out of a 3rd floor window...
This is a clear evidence that the G-Shocks reliably endure any strong impacts, falls or vibrations (if you work with a jackhammer or other shaky tools). Thanks to their toughness, they still belong to the best-sold sports watches in the world. Casio G-Shock DW-5600E-1, a successor to the abovementioned first series, reminds us they are still to be admired: on the 12th December 2017, this watch has earned a Guiness World Records Book inscription after it survived being driven over by a 25-ton truck!
Who is it made for?
These watches are designed for extreme conditions. They are popular with firemen, policemen, soldiers or astronauts...simply all the terrain professions that need a 100% reliable and resistant watch. But they are not only designed for the heroes in uniforms... Every active sportsman or sportswoman enjoying rheir time in the nature will fall in love with them. And because they offer a great amount of colours next to a lot of useful functions, you will never feel bad with them on in the city!
This collection could boast an unbelievable number of 2000 models already at the turn of the century!
An invincible watch? Yes!
The dial is either digital or combined (both digital and analogue), run by a battery with a 2-year warranty. The case is made from 10 layers of high quality plastic and steel, the display is protected by a mineral glass. The safety of the watch movement is guaranteed by its moveability as well as by a polyurethane cushion thanks to which it perfectly withstands any impacts.
And what about water? No chance! Every item can count on a highly above-standard water resistancy of 200 M (which makes it function even under the water). With all these factors combined, there is little this watch should be scared of.
The indispensable part of every G-Shock is a plenty of special functions (stop watch, alarm, time zones, light, luminescence, thermometer, etc.,) that never let their owner down. The newest specialities include solar recharging, atomic time, 6 time zones synchronization, compass, altimeter or GPS.
Top 10 Men's G-SHOCKs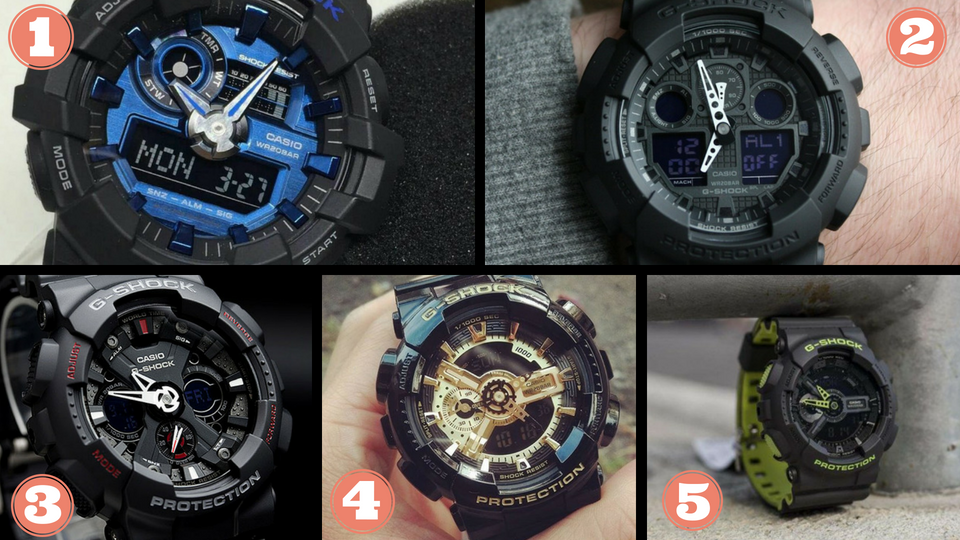 Casio G-Shock GA-710-1A2
Casio G-Shock GA-100-1A1
Casio G-Shock GA-120-1A
Casio G-Shock GA-110GB-1A
Casio G-Shock GA-110LN-8A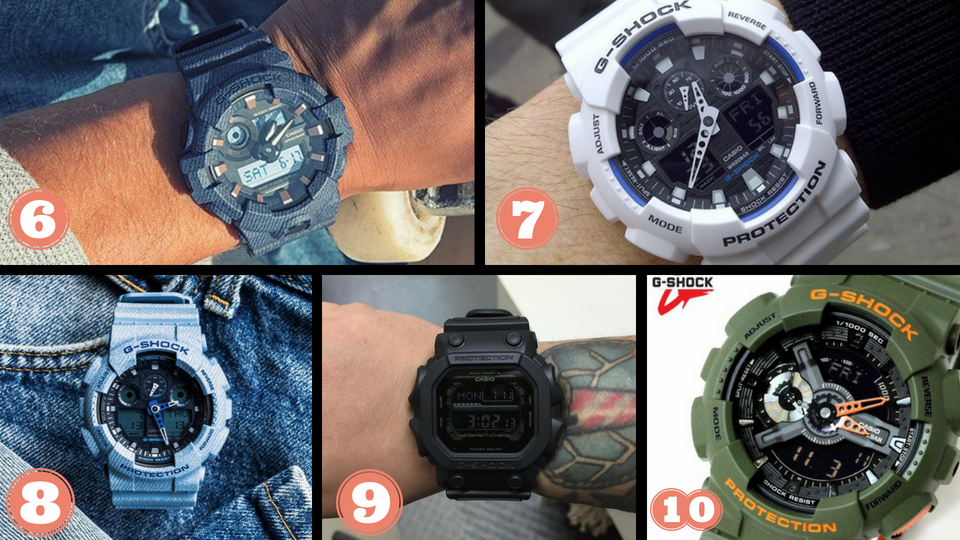 Casio G-Shock GA-700DE-2A
Casio G-Shock GA-100B-7A
Casio G-Shock GA-100DE-2A
Casio G-Shock GW-M5610BB-1
Casio G-Shock GA-110LN-3A
Baby-G for women
It was a matter of time until it became clear that women also need an invincible watch. The gender stereotypes are disappearing and women want more from their life than just babysitting, cooking and cleaning. That is why Casio started a Baby-G collection in 1991, designed for every adventurous woman. Of course these watches are smaller and more colourful in contrast to the men's watches, so that every sportswoman can choose a reliable friend according to her fancy...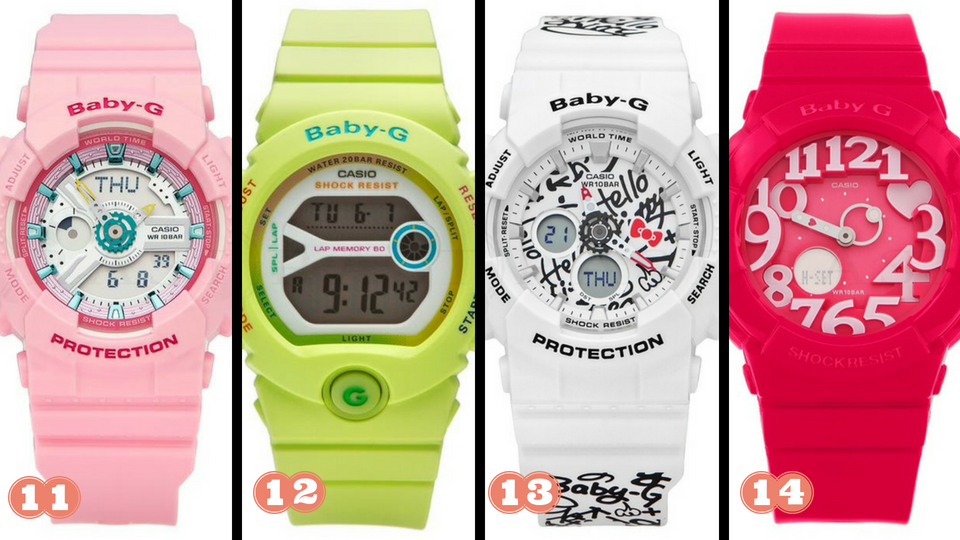 Casio BABY-G BA-110CA-4A
Casio BABY-G BG-6903-3
Casio BABY-G BA-120KT-7A
Casio BABY-G BGA-130-4B