"True love" is, by its very nature, a rather controversial topic. Some people try to define it philosophically, others psychologically, others through chemical formulas and many people perceive it simply "humanly". In our view, each of these views conceals part of the truth, and one should not follow only one of them.
Fortunately, all these approaches agree on at least one thing that love is always preceded by a phase called falling in love. While a woman can fall in love really quickly, as it is inaccurately said, "love at first sight", a man looks around first and sorts out surrounding women on the basis of their sexual drive (even genetically determined rationality). If he feels that the indispensable chemistry is not working between him and the chosen woman, he does not try to get to know her any more and continues searching. But if one of the women "sexually smells" for him, he devotes all his time and attention to finding out where it will go.
It is at this stage that you have a unique chance to get deep into his head, heart (and pants). If he really falls in love with you, other women will cease to exist for him for several long months, possibly years. You will truly be "the only one". And if the love on your side will fully bloom, both of you will experience one of the most beautiful periods of life.
But if you keep your feet firmly on the ground, you have to be prepared for the fact that physical attraction can also end your relationship and never even the aforementioned second phase - falling in love. In that case, it is up to both of you to accept this fact, and you will only meet your physiological needs together, or go on a new hunt.
We wish you to soften your chosen one with a truly sensual fragrance that will make him choose you. Only then it's worth trying to conquer his heart. So how do you make him fall in love with you?
Be yourself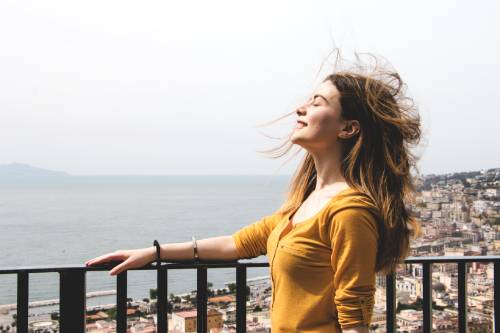 While this article may seem like a to-do list that requires a guaranteed reward to complete, be reasonable. A man is not a robot, and there is no manual to customize it. Therefore, if you want him to fall in love with you, do not treat him that way. Do not buy piles of would-be groundbreaking books on "how to charm him," "how to be irresistible," or "the rules of happy love". Just be natural. Only in this way can he really recognize you and fall in love with you. Do not try to have and live another woman's life. Have yours and be happy with it.
Laugh
Laughter is the spice of life. Without it, our life would taste like a sold-out soup from the school cafeteria, which most children quickly return to the window. Although a lot of men seem to make do with their friends in this respect, laughing with a beloved woman from the heart is of much greater value to them. Joking in the male team is a really nice ego massage, but the feeling of fulfilment from the tears of laughter of his woman is priceless for them. Therefore, feel his efforts to make you laugh, and when you feel the need to laugh from the heart, laugh! Show him that you are definitely not boring.
Show him that you know what you want
Nothing irritates a man more than the situation in a restaurant when he quickly reads the entire menu in 3 minutes and has picked food and drink, while the woman reads the menu at least 2 times from top to bottom and then says that she does not know what to get. Do you know it? To defend our women, we have to say that we are not really doing it on purpose, nor are we so picky. The cause is our pathetic pursuit of perfection. We, therefore, consider lunch or dinner in the restaurant as a precious moment and try to make the selected food unforgettable. But by our exaggerated endeavours and indecisiveness, we just deteriorate those moments with our precious. Therefore, put an end to indecision! Simply give yourself the first meal you want and give the men an unforgettable impression. Seeing how clear your tastes are, he will want to know where you are so hotly uncompromising.
Believe yourself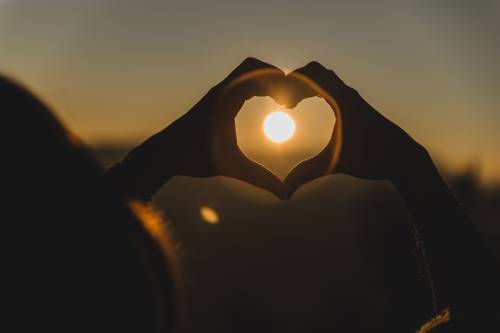 If you have a little battered self-confidence, start working on it quickly. Nowadays you will come across the words "motivation", "self-management" or "self-training" almost anywhere you look, so don't ignore them anymore and dive into their secrets. If you want a man to fall in love with you, you first have to sincerely love yourself. If you are not feeling well in yourself, the man knows it and does not want to feel the same with you.
Therefore, regularly work on your mental health - compliment yourself, write your achievements in the diary, appreciate aloud your strengths, reward yourself and, above all, learn to accept compliments! You will see that your increased self-confidence will make men feel like a magnet, and you will finally feel deservedly royal.
As a great, every day "kicker" of self-confidence, as well as a "comfort" of getting up early, floral or citrus ladies perfume works reliably for us. With it, you will always be fresh and sexy.
Take care of yourself, grow your femininity
Although you constantly hear men crying about how much time their wives spend in the bathroom, don't believe them. It is only a sigh deeply rooted in male DNA, which may still be entertaining (mainly funny with the popular theme "Mars vs. Venus"), but has nothing to do with reality. In fact, every man longs for a beautiful woman and realizes that without lengthy processes inside and outside the bathroom, it will not work. Or not forever.
So don't be ashamed of taking care of your hair, nails, teeth, skin… Take care, use makeup, and care about then the passing time. If you look beautiful (outside), you will feel beautiful (inside), and it will positively affect your entire life. Followed men's attention as a perfectly sweet icing on the cake.
And above all, besides visual beauty, don't forget to behave like a woman. Nothing looks worse than when a beauty disgust with her vulgar even the stubborn truck driver.
Don't regret spending money on your wardrobe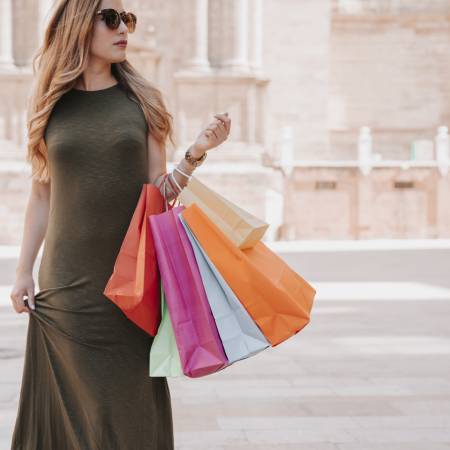 You're no young anymore. You make and manage money. But maybe you have too much-ingrained parenting lesson to "not spend unnecessarily" that forces you to accumulate your entire income without much. Forget the exaggerated "creak" and enjoy!
While there will always be money, our life span is limited. Therefore, we treat money with respect, but at the same time do not look extremely at it. Let's make our lives more enjoyable because that's why we earn them!
In the first phase of joy, every woman should invest in her wardrobe. This step is closely related to the previous two points. Discover what suits you and gradually replace those faded T-shirts and pulled jeans with new, flexible, richly coloured pieces that you will wear out of love, not a necessity.
When buying clothes, think how what and with what you will combine. Make sure you don't buy new and new things unnecessarily and still complain that "you have nothing to wear". If you are just getting to know your style, start simply. Buy nicely fitting jeans, monochrome t-shirts (white, black, some pastel colours), warm cardigan, fashion watches, low sneakers or shoes, and a total outfit matching handbag. This way you will be sure that you look great and at the same time, thanks to the watch, your love won't have to wait for you all the time.
If you haven't done so yet, try including jewellery in your outfit. Properly selected jewellery can attract attention in the right direction and also tells a little more about the woman. Earrings can attract a man's attention to your hair. The necklace again attracts the look to the face. The bracelet then tells us that the woman cares about how she affects her surroundings. Beads and leather bracelets reveal that a woman loves adventure, likes to travel and is not afraid of any challenge. A silver or gold bracelet suggests that a woman loves parties and social events. So if you add jewellery to your outfit, your overall impression may sound a little better and you get extra plus points from men. In addition, your exterior can target specific types of men that attract you.
By this, we don't want to encourage you to emancipate or even feminism! With it you really won't succeed with men. The man must always feel that you are a gentle flower that needs gentle and regular care. Therefore, let him open the door for you, push a chair and hand stuff from high shelves. Do not resist an invitation to dinner, cinema or a romantic wellness weekend. Remember that all men are by nature stubborn, vanity, and nobody forces them to do something they don't want (except for themselves). If he wants to invite you, he really feels that way. If you stop him from doing so, you just ruin his joy.
Become independent in the sense that you don't sit every night with your hands in your lap, waiting for him to come and entertain you. Yes, the moments spent together are a necessary condition for a happy relationship, but you have to be able to fill your free time yourself. Go exercise regularly, go to the theatre, to an interesting lecture or exhibition, meet with inspiring people, do whatever makes a smile on your face. When you meet him then in the evening, tell him about what you have experienced or learned. Infect him with your enthusiasm! You will see that he will sincerely love you for this quality.
Listen to him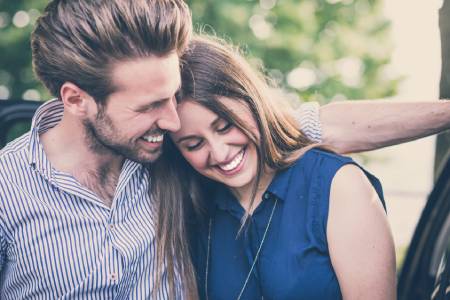 There is a stereotype that women are much more talkative than men, and men often tease them because of this quality. But do you know that, according to several studies, men talk almost as much as their sweet half? Just not with everyone (so much different from women), but only in a circle of good friends - men. Therefore, when you hear the conversation of the opposite sex on the street, it seems to you that a poor man was under the gunfire. But this is not only due to the number of words produced by a woman, but especially to her frequency of speech flow (how fast she speaks) and frequency of voice (determining its height). It is these two factors that make communication between the princesses and their brave knights so difficult ...
So how not verbally beat him? Just listen to him. Don't just talk about yourself, and not at all what you failed in that day, or who did everything and how upset you. Briefly outline to him the most important events of your past day and let him ask himself what he is interested in. And if none of this attracts him enough and chooses another conversational topic, swallow your pride and be guided. You will be irresistible! After all, even men like to talk about each other, and for the space provided, they will be happy to listen to you…
If you have anything to do with an introvert just learning the rules of communication with a woman, you can take the reins - gently and not for too long. Feel free to cast conversational topics and ask what interests you. But if your "shy one" finally speaks up, don't interrupt him.
And the biggest advice in the end?
Do not analyze too much and do not just blindly follow the advice of so-called experts. Articles of this type should mainly serve as a source of inspiration, not as the aforementioned manual. Maintain your heart, mind, experience and intuition. Each relationship works differently, each pair prides itself on different values. Therefore, with a smile, embark on the search for "the right one" and do not forget to enjoy life. Good luck!