/
Handbags
/
Women's handbags
/
Anna Grace AG00560
---
Fashion handbag from Anna Grace AG00560 is made of eco leather. Tailored for women for daily wear. The handbag has 3 inner pockets and 0 outer ones. The main pocket can be closed by a practical stud. This cappuccino handbag, made in England has 20 cm high handles of cappuccino colour.

Description Anna Grace AG00560
The maximum carrying capacity of the fashion bag varies from 1 - 1.5 Kg. Overloading the handbag may result in breakage, cracking or even tearing off the straps of the handbag, cracking or pulling the leather on the bag or other damage around the straps and zip. Read all our tips on how to properly care for fashion handbags.
Read more
---
Ask experts
Before you call, have a look at the answers to frequently asked questions.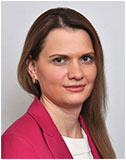 Brenda
customer care manager
Customer reviews

Similar products
For women

£17.49