The word "nude" seems to have successfully become an everyday part of fashion vocabulary. It's used in connection with everything - clothes, handbags, shoes, watches, lipsticks, makeup, nail varnish and jewellery. That being said, Nude seems to have a thousand interpretations…
So I'm sure we all know that nude is just a way of saying naked. So why not just call it skin tone? We are all different, beautiful shades, There is no such thing as black and white just shades of grey the same goes for skin colour. That's not just tone but undertone too. So to simplify Nude is where to be:
Cream,
Pink,
Peach
Rose,
Salmon,
Gold,
Caramel.
These colours should certainly be in your wardrobe. What kind of outfit do you feel more natural and more confident in than clothes and accessories that are in harmony with your body?
NUDE CAN BE COMBINED, MIXED, AND MATCHED
You needn't worry about using a number of different body shades. With these colours, you don't have to worry about overdoing it. They always create mild, subtle, and feminine combinations. They also have the advantage of complementing all natural hair colours - blondes, brunettes, red-haired and black-haired. Nude doesn't stop at the clothes you don't look like you're wearing, with nude makeup and a minimalist, less equals more ethic you can be in tune with your body. Don't worry if you think nude makeup is a step too far and you're afraid of looking like you've just crawled out of bed. You can work with the style: subtle and mild clothes with more bold makeup or simply highlight your eyes with prominent black lashes.
Our tip: If you want to be absolutely stylish, get a glittering nude boot in a higher heel (Jimmy Choo, for example) in a shade lighter than your skin. Your legs will look even slimmer and longer in them.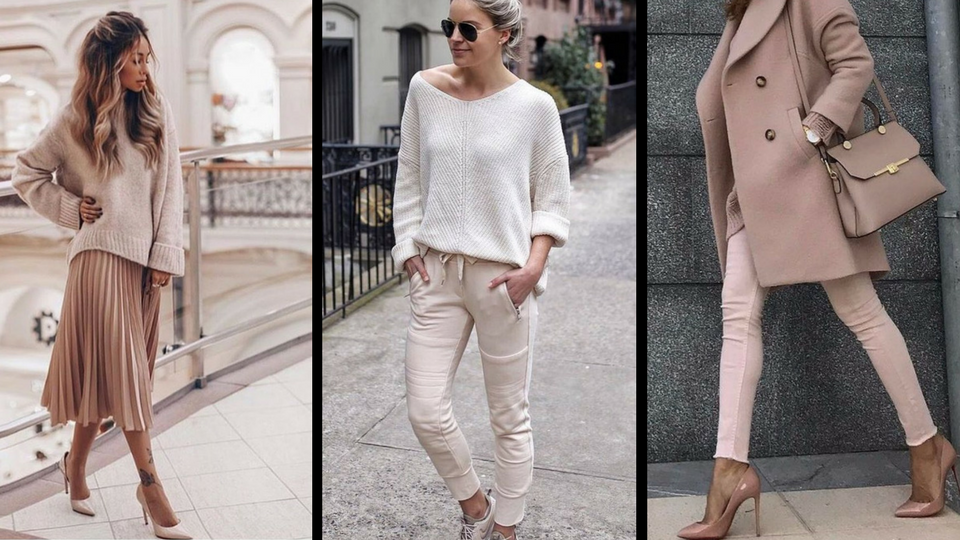 DON'T WORRY ABOUT BOLDER COLOURS
Nude clothing and accessories are some of the best investments you can make in your wardrobe. Not only do they work brilliantly together, but you can combine them with many other colours!
A lot of fashion experts agree that nude is "the new black"! Nude shades work with almost any color and opportunity. You can achieve a particularly stunning impression by combining it with pastel colours (such as mint green or pale blue).
A WATCH TO COMPLETE THE LOOK
So for this subtle, romantic nude style, analogue watches with lighter leather tones fit like a glove. Whether you choose an all-metal model or a leather strap, you'll find the perfect icing on the cake.
Especially those in gold or even better rose gold. You'll find the most beautiful ladies watches in the spirit of this fashion from Michael Kors, Festina, Lacoste and Fossil.