Bracelets for joy for women and men
Women want to look good and like to decorate. How about giving them a Guess bracelet? His designers worked with leather and surgical steel to create jewellery for casual wear. Perfectly complements the modern outfit for work and free time.
There are never enough bracelets. After all, everyone is for a different occasion. Guess bracelet with Swarovski crystals and pink gold finish will surely please any woman or girl. Thanks to the used material, which is again surgical steel, it does not have to worry about unpleasant allergic reactions to metal.
Wearing bracelets is not just for women. Men also like to express their taste. Make your man happy with Tommy Hilfiger leather bracelet. The combination of leather and surgical steel with a silver finish is timeless.
Surgical steel earrings for women
Which woman doesn't like wearing earrings? There are not too many of them, so even with this piece of jewellery, you will surely find the taste of your chosen one. Guess earrings in the shape of a heart, so typical of Valentine's Day, are set with Swarovski crystals. Surgical steel is hypoallergenic and therefore suitable for nickel-sensitive people.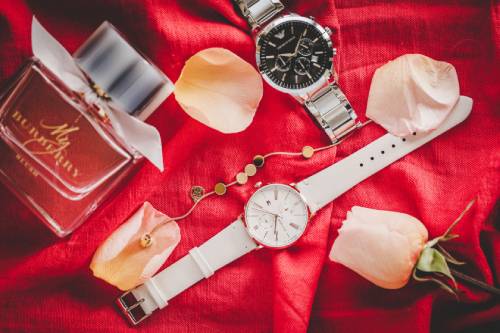 Or do you prefer Tommy Hilfiger? Earrings in the shape of a circle are fastened on the stud. Surgical steel in gold and silver finish is used in their production.
Blue crystal colour in earrings from the same brand will suit brunettes and blondes. Comfortable fastening on the stud makes they suitable for everyday wear. But where is it written that a woman could not decorate herself for a theatre or concert?
Women's wristwatches
For Valentine's Day, you don't just have to give jewellery. Nice gift can also be analogue wrist watch Michael Kors MK3179 in steel design from the Slim Runway collection. Their classic style is liked by women who do not like to break out of fashion fads. A round dial covers a scratch-resistant mineral glass. The watch will be able to accompany your chosen one on the way to work and for free time.
Does your loved one prefer a wristwatch they can take with them to a formal occasion? Michael Kors MK3191 may be exactly what you're looking for. The dial is decorated with tiny Swarovski crystals on the perimeter, giving the watch a festive look. However, they can also be worn daily, as the bracelet and the case are made of durable gold-coated steel.
Reliable battery clock pulse in the body of women's wristwatches Tommy Hilfiger from the Ari collection. Durable mineral glass covers a round dial with small zircons. Women's model also has a tachometer, a time/day indicator and a 24-hour clock.
Men's wristwatches
Gentlemen also care about the choice of wristwatches. Our tip for your loved one may be these - Diesel DZ4318. Interestingly designed dial in the combination of blue and red is analogue. The steel bracelet has a PVD coating that is used to increase strength, durability and hardness.
In a similar style to the previous model, the Diesel DZ4344 wristwatch from the Mega Chief collection is combined with a gold-coloured metal case and a black leather strap. They will certainly not go unnoticed. Their interesting and novel look attracts the eyes like a magnet.
The Dutch brand Tommy Hilfiger is mainly engaged in the production of garments, with which it has earned recognition worldwide. As a fashionable icing on the cake, he also produces wristwatches that will underscore the outfit. Men's wristwatch Tommy Hilfiger 1791487 leaves no doubt that they are ideal for young active men. Leather and steel fit together to create an original watch look.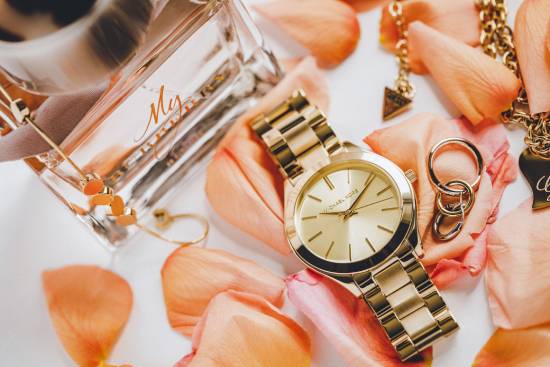 Perfumes that brighten the senses
The delicate fragrance of women's perfume Cacharel Amor Amor will make your head spin when you smell to your love one. The scent of citrus combined with lily of the valley, sandalwood and vanilla creates the unique scent your girl or woman simply has to have.
The Moschino I Love Love women's eau de toilette was created for the joy of life. It combines the natural scent of cedar, tea rose, lily of the valley and red currant. As a gift for Valentine's Day, it is suitable for immediate women with contagious laughter.
A good perfume or eau de toilette will make every woman happy. Paco Rabanne Lady Million is perhaps just what you are looking for to give on Valentine's Day and conjure up a sweet smile on your girl's face. Exactly the one you love so much about her.
Or do you prefer the eau de toilette Kenzo Flower by Kenzo, which combines the scents of Parma violet, jasmine and Bulgarian rose with tangerine and blackcurrant?
If you ask women what they love about their husband, maybe they will answer something in the sense that it's mainly his male strength and the charisma he radiates. And the smell that attracts them so much. Men's eau de toilette Paco Rabanne 1 Million with patchouli and oak lichen base, the heart of cedar, jasmine and orange flowers and head with a penetrating scent of bergamot and plum - a purely men's scent that women cannot resist.