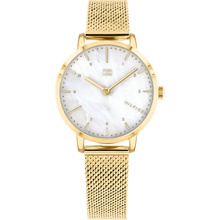 Watches are not only a practical and functional accessory, thanks to which we have an overview of the current time. They are an effective stylish accessory, for women double. For women, watches are indispensable. Women's watches, like perfumes, can add to your personality on sensuality, attractiveness, mystery. Be it, models, in classic, elegant, sporty, modern or luxurious design.
Watches for women have a deeper meaning. Ladies adore them and today, thanks to a very varied assortment, so even the most demanding customers choose. Often women do not have one model, but they own several, which can properly rotate according to purpose as an intriguing complement to the outfit.
Watches for women and girls that complement their style
The best watches are those with which a woman feels good. Women usually choose analogue watches for everyday wear and special events. It is an important fashion accessory for girls and women, so it is worth choosing a quality product. You can't go wrong with brands such as Tommy Hilfiger.
The world-famous brand that offers valuable products, including women's watches in very diverse design and refined design. Watches that, won't be out of fashion, stand out for timelessness, long life, sophisticated design and quality material. Some models of analogue women's watches have more functions.
Brand proved by its quality for years
Tommy Hilfiger is one of the most famous lifestyle brands in the world bearing its name after its founder. When a man named Tommy Hilfiger founded a company in 1985, hardly anyone suspected it would be one of the most successful. Because the beginning was perhaps more interesting when Tommy Hilfiger, as a teenager, travelled by bus to New York City to buy jeans. He then adjusted them at home to give them a touch and sell them to his friends and friends. The man who followed his dream and goal began first as a salesman.
Today, this American brand is popular and does not lose its popularity. Tommy Hilfiger is a high quality that not only addresses young customers, but also satisfies the most demanding clientele. Fashion brand first specialized in the production of clothing, then expanded the range of perfumes, fashion accessories, including watches. As a result, it has entered the subconscious of the general public not only at home, but around the world, including Europe.
Since the launch of the product, the brand has become popular primarily for its unique style. The watches are characterized by quality, precise design, sophisticated design. They do not lose their value and beauty even after many years.
Models blend with the grace of colours
For girls and women who like pastel colours, especially delicate and pleasant pink enhancing tenderness, women's watches Tommy Hilfiger Jenna with a leather strap or if you prefer metal, in this case, it is quality steel, suitable for allergy sufferers, then the impressive model Tommy Hilfiger Ari is offered.
Also noteworthy are sophisticated models, dominated by beautiful blue, which is very popular. Here you can choose, for example, the watch Tommy Hilfiger Blake, which are complete in blue or an intriguing combination of blue and gold in the form of the model Tommy Hilfiger Dani. There is also a representation of the golden classic through the watch Tommy Hilfiger Lilly.