Founder of the company had no intention to create another boring clothing line, he wanted to create something cool, something carrying the spirit of American nightlife and so he did.
He started his first business during the Hippie era, called " The People's place". Unfortunately, people came there to have fun rather than to shop, so he, just 25years old, went bankrupt. Hilfiger was so disappointed with his failure, he wouldn't even let himself be hired by Calvin Klein or P. Ellis, who were so willing to employ him. Yet Tommy gave it another shot, this time with courage and success did follow!
Tommy Hilfiger is unique especially thanks to achieving one thing wanted by all - attracting the young buyers.
Tommy has attracted the younger audience not only with his spectacular designs but also with his often silly behaviour. A perfect example is his fight with Axl Rose (singer in Guns and Roses) in 2005, whom he slapped, resulting in a strengthening of the brand. Tommy has proven, that it's not only fashion but a lifestyle as well. But a true boom caused Snoop Dogg when he wore Tommy Hilfiger designed sweater to a talk show.
Tommy Hilfiger's portfolio isn't only clothing for daily usage, but watches, perfumes, handbags and jewellery as well. All pieces successfully combine modern classic and sportsmanship.
Tommy Hilfiger Watches
First of all, Tommy Hilfiger watches are design pieces which don't lack value or quality.
Just like the young people in America, also these watches like to provoke the general public and break long respected rules, yet maintain their simple and cool style.
Tommy Hilfiger designs rather fashion watches but some of them can be considered classic.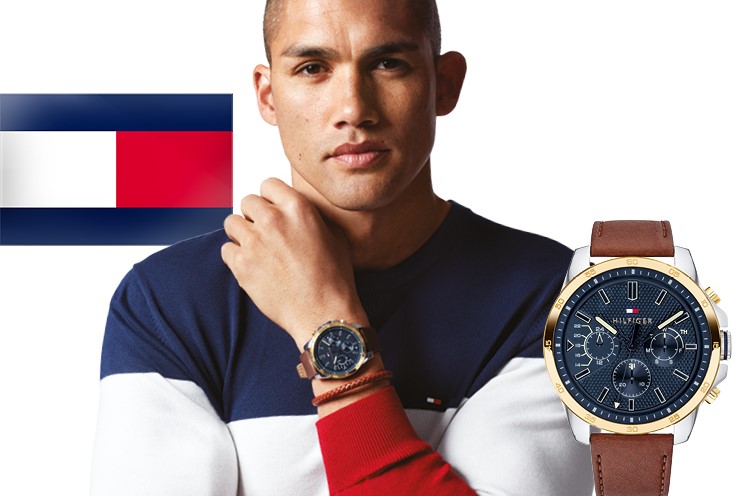 The functionality of the watches
Tommy Hilfiger watches often come with a chronograph, second hand, classic date window,24h time dial and a day-of-the-week window.
The dial is often made of steel and circle shaped, making the watch look cooler. Leather band is more popular than its steel made brother, luckily, Tommy offers both of them. There are some pieces with bands made of plastic or silicone.
TH watches are resistant to common moisture, some even come with Bluetooth or stopwatch.
Watches with tri-colour logo aren't considered the cheapest, yet you can still find some affordable pieces.
Tommy Hilfiger men's watch
Tommy Hilfiger men's watches often reflect the sporty lifestyle in the streets of New York. Expressive dial, bands made of leather and colours showing their freedom, strength and naturality are in many cases bought by young men who are willing to be authentic and consider themselves as American fashion lovers.
Some pieces offer roman numerals which are shocking combined with modern design.
Incredible pieces of art are watches of Erik collection. Thanks to their untraditional colour combination are the watches a perfect accessory for every occasion. Rose gold case in addition to a leather band and brown coloured dial creates a perfect example. Their water resistance goes up to 5 ATM all protected by a crown.
A bit more mysterious are pieces of Will collection. These have a solid case made of steel with slightly silverish colour. Black band, black dial and classic numerals create a true masterpiece. As usual, the dial is protected by mineral glass.
Tommy Hilfiger women's watch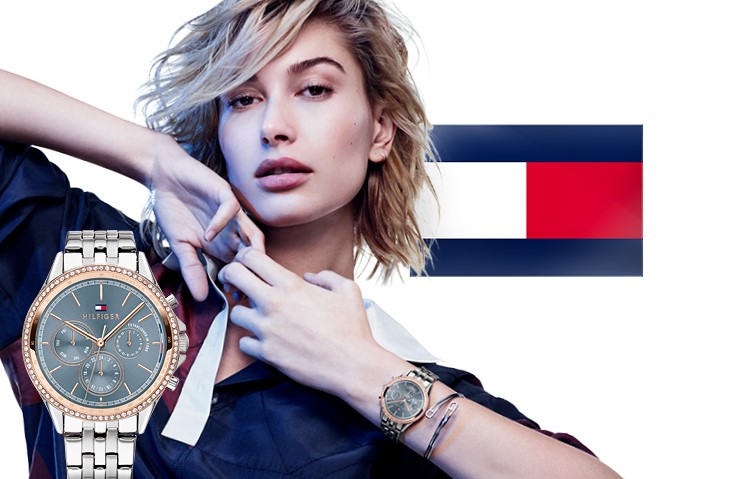 Tommy Hilfiger's watches for women are very much like men's watches. Distinctive colours express more courage and attract mostly energetic young ladies who like to have fun.
Tommy Hilfiger women's watch of Savannah collection appears mysterious, elegant and most importantly - different. When it comes to the dial, you won't find the usual 3, 6, 9 and 12 numerals. No. You'll find untraditional 4, 8 and 12 numerals forming a magical triangle. These details make Tommy Hilfiger so unique and special.
Second of examples demonstrating uniqueness are watches of Gracie collection with rose gold dial, case and band with a fragile, yet strong touch. A wish of every woman.
Every piece is completely original, always carrying something breathtakingly unique you'll love.No matter if it's watch with flower pattern or incredible dial. Women's watches made by Tommy Hilfiger offer many different styles making your choice even easier.
Men's perfumes by Tommy Hilfiger
Men's EDT by Tommy Hilfiger - Eu de Prep- is an energetic, woody perfume perfect for spring weather. The fragrance is made for men full of confidence, loving adrenaline, comfort and like to feel manly and attractive. Even though it's perfectly suitable for active men, wearing it casually won't do any harm and is mixed to last several hours.
Tommy Hilfiger perfumes are affordable luxury enjoyable for all.
Tommy Hilfiger women's perfumes
Tommy Girl
EDT by Tommy Hilfiger - Tommy Girl - is an attractive summer fragrance with its own persona. It was mixed for modern, confident, women with a romantic soul. Its aroma appears fresh thanks to blackcurrant with tangerine, also with an apple and camellia touch. Fragrant so sexy, yet elegant! Try it yourself.
Tommy Hilfiger Loud for Her
Rock n' Roll fragrance - Loud for Her, made by Tommy Hilfiger, is inspired by energic and passionate music. It's a perfect match for younger and confident women willing to break any walls necessary. Honest, sensitive and strong - that's Loud for Her!
Be young, be wild, be free - be like Tommy Hilfiger!