The journey has started with a wish to create an unbreakable watch. And surprisingly – despite all expectations – impossibility turned into reality. Remarkably durable watch acknowledged by troops, lifeguards and astronauts (and of course fashion enthusiasts) has been in existence for more than 30 years.
The fact that this watch that can endure almost any conditions and even freezing temperatures it´s not a secret any more or just a wishful thinking. Due to the fact that spring is coming (first day of spring is on 20th March at 21.58 o´clock) Casio G-Shock watch are going to be appriciated mostly by sports loving people. And it doesn´t matter if you plan to do some scuba diving or mountain climbing, this watch come in hand(y) (or actually even better on hand)!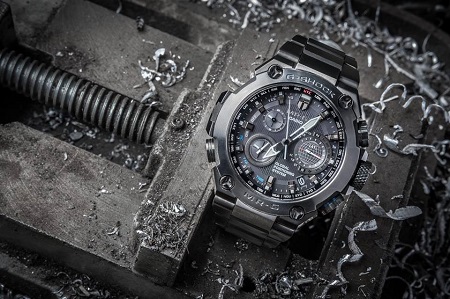 From an Idea to a Legend
Casio brand has been known to come up with modern gadgets and useful features for years. Men´s Casio G-Shock watches are no exception. These unusual, mostly men´s watches came on the market in 1983. Kikuo Ibe, the designer, who's been Casio's designer since 1976, is the man behind their creations.
There was a lot of experimental prototypes prior the creation, which were mainly designed to stay intact after a fall from big heights (one of the tests to prove endurance of the watch was dropping it from the third factory floor to the ground). The watch is made waterproof, able to survive fall from a height of ten metres and stay functional for ten years without a battery change. Ever since then Casio G-Shock watches have brought modern watchmaking to another level – also because of their unique design.
Many up-to-date models are overoming this criteria by far, yet there are still pieces with less than a 3-year battery life expectancy. Prices are starting at £ 70 per watch ranging up to £ 600 and even more.
Unbeatable features
Casio G-Shock watches are equipped with mineral glass, increased magnetic field resistance, backlit dial, several time zones, date indicator, calendar, alarm and speedometer. Some models come with accurate time sync thanks to GPS and there's a few suitable for deep sea diving. Casio G-Shock line is constantly improving and trying to keep up with modern trends at the same time, overcoming obstacles and challenges and making the impossible possible. Casio creators and designers, even in the time of smartphones, can guarantee us mind-blowing news even in years to come.
Women´s version
Even thought there are several women´s models in G-Shock line, there has been a line created directly for women. Every enthusiastic sportswoman can fully enjoy the quality of women´s Casio Baby-G sports watches. Just like classic Casio G-Shock,they-re capable of withstanding frost and they are good to go to dusty environment or nature.
In case of apocalypse...
We're constantly being assured about upcoming apocalypse. The last one should have had happened in September 2017 - apparently, there's a mention about it in Biblical texts. Before that, we were threatened by the end of the world 5 years ago (21. 12. 2012) - this was for change stated by the end of the Mayan calendar. Similar madness could be seen at the end of the millennium, as some conspirators were trying to warn us from the final end of the world said to happen at midnight on 1st January 2000.
All warnings and conspiracies have been proven wrong, so the promised apocalypse didn't follow. That was still no concern for all those prophets and conspiracy theories makers. Quite the contrary - catastrophic scenarios are promised to come even this year...Zombie apocalypse films are getting more and more popular, making people believe for one to actually take place. Is it really going to happen?
Do you find yourself in fear? In that case you definitely should get your own Casio G-Shock or Casio Baby-G watch, watch asap, because if not you, the watch will definitely survive...