You may think that in many cases the "3in1" tag does not mean anything good. For example, in hair cosmetics, you cannot expect triple benefits for the products labeled as such, but only one-third (quality decreases at the expense of quantity). But luxury Festina watches are completely out of the question! No matter what model you choose, you can be sure that it will improve your image at work and at home, and you will never be late again. You will be eager to look at them so often that you will not miss any arranged appointment.
What can they do?
Now, let's skip all the well-known features such as a stopwatch or date/day indicator, and focus on the skills that are not so easy to imagine.
A chronograph. A term for a watch the dial of which is inhabited by several smaller sub-dials controlled by the added buttons above and below the "crown" (the indented wheel on the side). Using smaller dials, you can measure shorter periods of time (for example, how long it really takes your wife from "I will just take my purse and go." to when she really gets into the car, where you are patiently waiting for her). It is basically an analogue stopwatch and no Festina sports watch can do without it. Even many classic and fashion Festina watches are chronographic but only the ones for men. Ladies' watches do not usually have a chronograph because women tend to look at style more than at practical functions.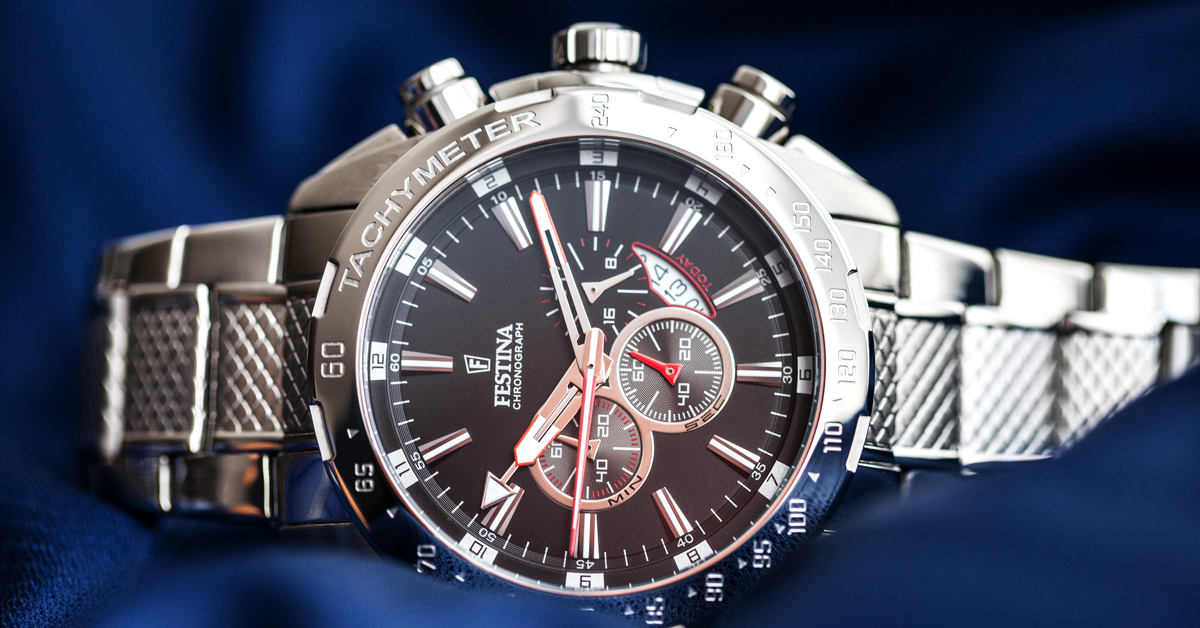 A tachymeter, with its name and task, is very similar to a speedometer we all know well from a car or bicycle. Unlike speedometer, it does not count the distance we travelled, but it will reliably show us how fast we did it. It is actually an ancestor of a speedometer, which is rarely seen in today's watches, because we all use smartphone applications instead. But the more dials there are, the more luxurious the watch seems, so...
Well, and how about luminescence, have you heard of it? This is the dim green fluorescent highlighting of hands and index allowing you to read time even several hours after sunset. In daylight, these parts absorb thermal energy, which then slowly subsides until it "extinguishes" completely. That is why you cannot expect to read such a watch at 4 o'clock in the morning when you accidentally wake up. In that case, look for a watch with a light – for example, the fashion Festina 20270/2 men's watch with extraordinary 100M water resistant.
What are their cases made of?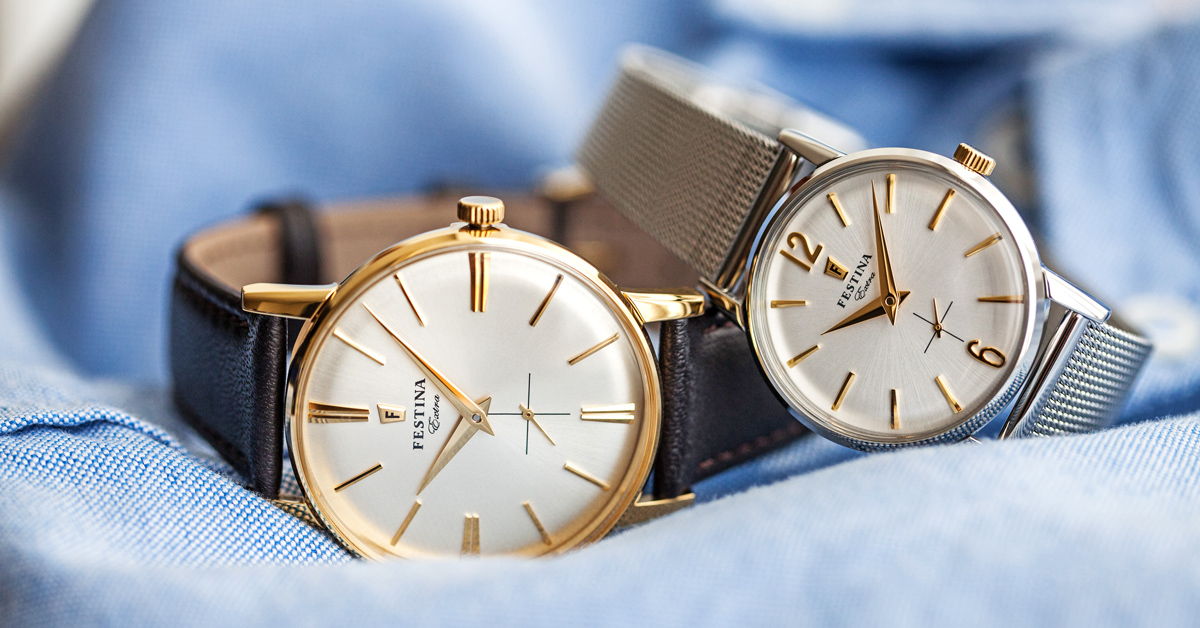 The most used material for making the watch case is steel, due to its high strength and relatively low weight. So you have a guarantee that nothing will threaten the mission of your watch – to help you manage all your tasks in time and with grace. Thanks to modern technology, steel can be dyed almost any colour to match your other accessories (rings, bracelets,...) and clothes. However, most models come in youthful silver, because silver jewellery today gives the classic yellow gold a beating. Yet, gold watches still hold a beautiful second place. And what is the third colour currently dominating the jewellery industry? The so-called rose gold (gold with a light bronze touch). Unlike the previous two options, it looks unique, fresh and luxurious, and it can be combined with gold and silver accessories. So if you get yourself Festina in rose gold you can wear it anytime and anywhere.
In our e-shop, you can also find Festina watches which have cases made of steel with PVD coating. What does it mean? Simply that even after a few years, your watch will be as flawless as your loved one on your first date. PVD is a high-quality surface finish that is resistant to abrasion, high temperature or corrosion and, unlike coloured coatings applied to the body of most metal watches, the paint will not start peeling.
The other three most popular materials include plastic, titanium and ceramics. Plastic watches are most often searched for by athletes looking for, rather than a fashion accessory, a reliable measuring of their performance growth. That is why they focus on water resistant plastic watches that do not unnecessarily burden them and do not cause an unpleasant allergic reaction (which can be caused by a combination of metal and sweat in someone with a sensitive skin). Allergic people looking for fashion watches can choose Festina titanium watches (hard, light and stylish) or ceramic watches – paradoxically the hardest (high-tech material) and currently very popular goods for all lovers of quality watches. You can hardly tell they are not metal! And yet they give the impression of luxury and leave other ticking beauties far behind them...
What straps do they combine with?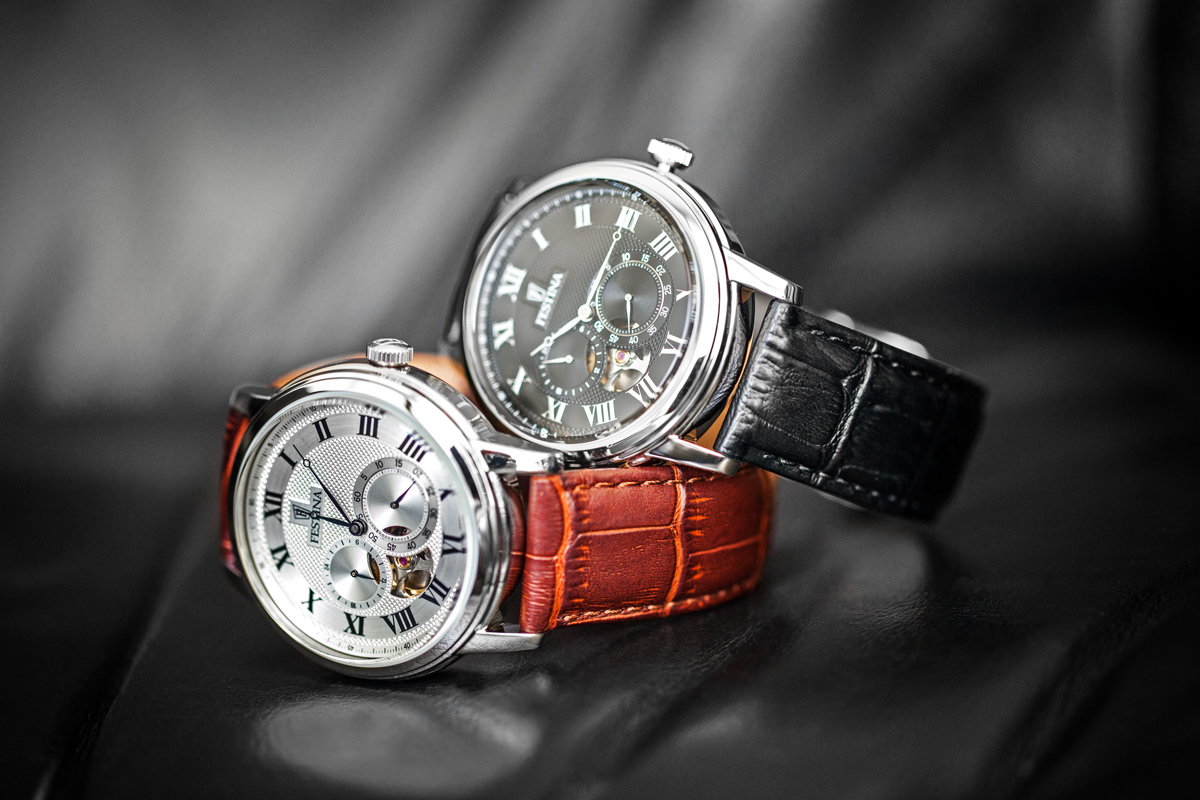 Most often with steel ones. All-metal watches have been holding at the top of the market for several dozen years. They truly confirm the idea that "beauty is in simplicity", that is, there is no need to draw the attention to a different strap. Both women's and men's Festina watches have such perfectly ornate dials that it would be a pity to disturb them with another strap. Being all-metal, their parts blend together, and their luxurious look can easily match the one of "Rolex". However, leather straps are still very popular. Probably because they are not so "uniform", and express your fashion taste much better.
Almost 800 branded men's, women's, children's and unisex models of Festina watches are awaiting you here.