It is never too late to start skiing. You can learn how to ski as an adult even if you don´t own profesional ski wear and equipment or a watch for extreme conditions.
But if you have mixed feelings about the idea you can choose apart from down hill ski and cross-country ski trails different fun altogether.
Sledge or bobsled track!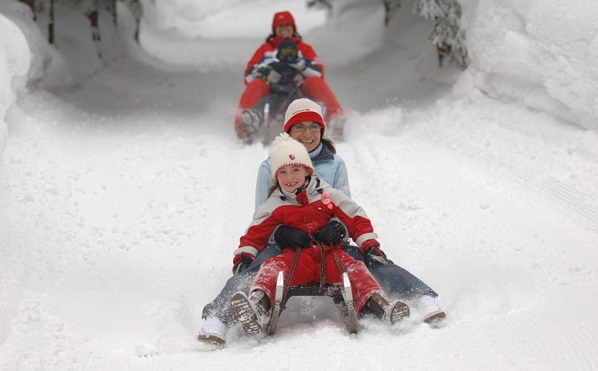 Go back to your childhood again at least for a few moments and don´t hesitate to go down not just some hill, but go streight for a few kilometres long trail!
Night-time or day-time sledging? Both is possible. For example in Czech Republic, the longest illuminated sledging trail is in Spindleruv Mlyn. It is a 3 km long trail for day-time or night-time sledging, and in the price of your ticket is also included a rent of a sledge and also a bus lift, so you are completely taken care of. All you have to do is to have fun.
But you don´t have to travel that far! There is a sledging trail even in Scotland. And what is even better, it´s free. Sledging at Glencoe Mountain is great fun for the whole family, you can enjoy a lovely view, build an igloo, or a snowman.
If you would like to go abroad, don´t hesitate to visit the world´s longest floodlit sled run in Austrian Wildkogel-Arena Neukirchen & Bramberg Resort, where you can enjoy a 14 km long ride.
You can discover really interesting sled runs also in Norway. A 2 kilometres long sled run in Korketrekkeren near Holmenkollen suburb of Norwegian capital Oslo is suitable for both childen and adults. Sledging itself is for free, you can borrow a sled or bring your own.
And if you would like to go back to the start and ride down the hill again? All you have to do is to catch a underground train and go for 15 minutes to Frognerseteren stop. The ride down last almost 10 minutes. But we have to say it, it´s an amazing experience.
Cross-country skiing in Norway
There are so many more winter activities in Norway to try then just sledging. Go and discover this land of fjords, mysterious world of Viking warriors and Nordic Gods, try their caramel cheese and fall in love with magic of beautiful nature and winter sports. You will enjoy cross-country skiing here more than anywhere else. Not only you will find a scenery without a touch of human hand or real architectural jewels, but most of all divine piece and quiet.
Hiking
And what about winter hike on snowshoes with an instructor! You can enjoy a trip with an animal tracker so you can strech your whole body and also learn something new about local fauna and flora. And where you can try this? You can try snowshoes in Austria or in Tatra mountains in Slovakia (this is one of the most challenging ones).
You can borrow snowshoes from almost every outdoor gear rental place. Apart from this there is one more big advantage: you don´t have to be advanced professional and study a complicated technics as with cross-country skiing or with ski mountaineering.
Neccessary addition: a watch for every occasion
Whichever version you choose, surely you will love some of these trendy gadgets: an almost indestructible watch suitable for every environment and a ski jacket with GPS and a GPS receiver.
Sports watches from Japanese company Casio are particulary durable, especially Casio G-Shock collection. They are distinctive watches with a massive dial, which are popular even among rescuers and soldiers. It´s like they were created for winter activities as they can endure extreme cold and vibrations. From women´s collections should be mentioned women´s watches Casio Baby-G, which were inspired by men´s version. They are smaller, but also very suitable for sport oriented women.
Mountain Wellness
Well deserved rest in the warmth of your hotel room - what could be better than that? Sport and then just right amount of relaxation are perfect match. Most of the mountains wellness hotels offer a jacuzzi, a Finnish sauna, an infrared sauna and a steam room.
Experience the real adventure, but don´t forget to have plenty of rest as well.