Everyone has heard the expression "less is sometimes more". It can be applied to almost every area of life ... Minimalism is not just a philosophy of life, but also fashion (dressing, food and home decor). We are pleased that more and more people and companies are coming to this realisation because they benefit not only ourselves but also our planet.
Meet the new line of hair cosmetics, Matrix Biolage R.A.W., which responds to your desire to have beautiful hair while being gentle to mother nature. Between 70-100% of the ingredients contained in their products are gently extracted from natural sources and your hair will reap the benefits. What's not to love?
Natural Raw ingredients that heal and soothe hair, mind and body
Being "natural" doesn't mean it can't work the same way or even better than any other professional hair care products. In nature we find thousands of little miracles that are beneficial to our hair and skin that don't need a chemist to synthesize or create them. At Matrix laboratories, they know exactly which ingredients are the most valuable and which plants to find them in. Thanks to that, your hair will look the way you always dreamed.
YUCCA

= Anti-inflammatory, antioxidant and antibacterial plant, luxuriously foaming, healing both the hair and the scalp

GOJI

= Well known from Chinese medicine, rich in minerals, vitamin A and C, it aids regeneration of damaged hair

CORIANDER OIL

= has strong regenerative capabilities and successfully combats aging, leaving hair strong and revitalized

HONEYCOMB

= moisturizing natural wonder for extra damaged hair

QUINOA HUSK

= containing vitamins A, B2 and E that deeply nourishes the hair and prevents hair from drying out

COCONUT OIL

= leaves hair shiny and hydrated throughout the day

SHEA BUTTER

= one of the most effective natural conditioners, dry and matt hair turns into a nourished and radiant

BLACK SESAME

= a miracle for fine hair, it can increase the thickness of each hair, so as a whole your hair will look dense and volumized

GRAPEFRUIT

= delivers volume and freshness to fine hair

KIWI

= natural stimulant, improves the strength and health for hair; protects it from undesirable environmental influences, styling products and inappropriate chemicals (contained in many cosmetics)

GINGER

= energizing, gently strengthening and repairing hair without undue stress

100% ESSENTIAL OILS

= olive, sunflower, lemon or fennel; each of them hydrates, strengthens and nourishes your hair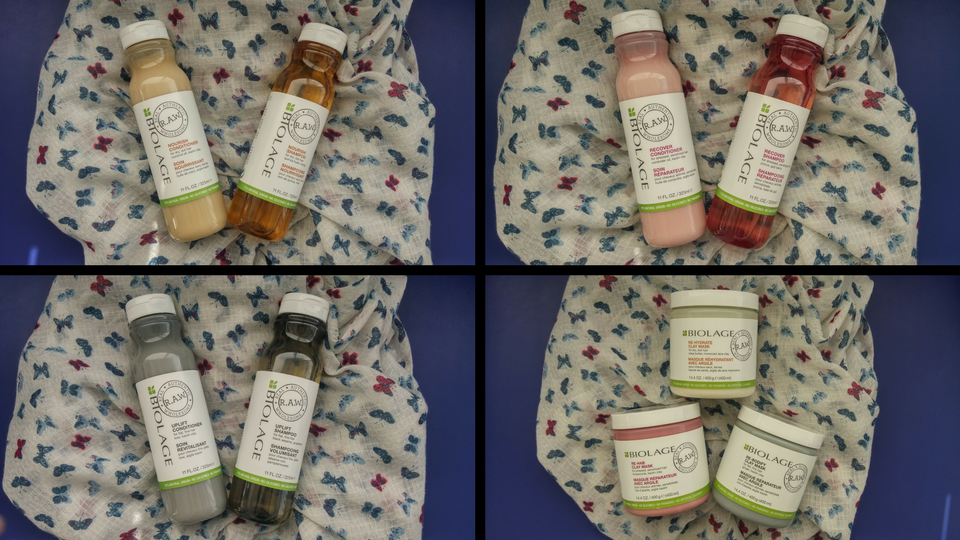 BUT IT'S NOT ALL ABOUT WHAT YOU'LL FIND INSIDE...
… But what you won't! Biolage R.A.W. aims to remove everything that you don't need to care for a beautiful head of hair, and whatever will unnecessarily burden mother nature. So they don't contain any sulphates, silicones, parabens or artificial colours.
EVERY HAIR TYPE CATERED FOR
RECOVER

= for VERY stressed hair (frequent drying and heat styling) and sensitive scalp

NOURISH

= for dry dull hair, it will provide the hydration your hair needs to improve its flexibility and shine

UPLIFT

= for thin and for greasy hair, which is also suitable for daily use
You can find in each of these 3 subcategories Shampoo, conditioner and mask.
FOR YOU AND FOR MOTHER EARTH
Each product in this series is up to 99% biodegradable. This means that it will quickly and gently dissipate after use and will not harm the environment. In addition, their packaging is 100% recyclable, seriously reducing the ecological footprint you leave behind.