Black Opium gives a very strong first impression with a very original and attractive bottle. I like when the perfume makers bring to perfection not only the fragrance itself but also its presentation. It is sometimes surprising how much a first impression matters. In this case the packaging really does give a good sense of the quality, care and attention that has come together in creating the modern classic inside. The angular black bottle with raised metallic glitter which is slightly coarse to touch provides an almost uncomfortable yet alluring sensation that sends shivers down your spine with the promise of something so good it must be illicit, like an enticing "taste of forbidden fruit". It makes it unmistakably clear that this is not the scent of little miss innocence and light, but of a weapon in the arsenal of a temptress. It's for those who know who they are and what they want, and that they can take responsibility for their actions... They say the eye is the window to the soul even for the toughest of ice maidens. This seductive bottle has an eye offering an alluring glimpse of what is to follow in the middle of it's angular, coarse exterior.
This perfume for women was launched in 2014 and has continued to capture the hearts of ladies and spark the interest of men ever since. The reason is simple: it's unique and unforgettable fragrance.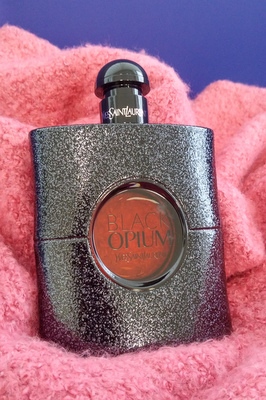 I found my mouth watering as I read the description. The top notes of the fragrance sound like they would be well suited as the ingredients for a dessert: pear, orange blossom and a touch of pink pepper. Of course after dessert, you can't do without a coffee and the middle notes offer freshly ground coffee and jasmine… YUM! Although the base of the perfume has vanilla I can't say I'd like to taste cedar and patchouli, but would love to have them in an atomiser to gently lower me back to earth.
So what should I expect from Black Opium?
I must admit that those ingredients do sound a little much, intimidating almost, but when they are carefully combined they become delicate, pleasant, mild, and sweet (but not saccharine). It gives me a reason to smile every time I notice it. It's not an aggressive fragrance that assaults the nose while having a potency that piques interest. That's why I love Black Opium.
After about an hour, Black Opium's fruity thrill starts to step aside to introduce more floral and woody tones. I admit that I was a little disappointed with the scent of coffee, but I don't think it was the fault of perfume. As a coffee lover I was hoping for the scent of an espresso under my nose but in reality I have to bow to the experience and forethought of the perfumiers. It might be a bit overpowering, and what if Mr. Right is a tea drinker! It offers more gentle undertones of walking past a cafe rather than the fresh brew I had in mind.
After spending a day with Black Opium, I know that ours will be a lasting relationship, and since Yves Saint Laurent - Black Opium is in the Top 10 of Women's Perfumes, I'm obviously not alone.
I bet it'll get deep under your skin too…