Aries (21.3.-20.4.)
Aries are usually very energetic and like strong colours and scents. Flowers suitable for this sign should have large flower heads. Suitable are roses, tulips or peonies, ie large coloured flowers with a charming aroma, complemented by small coloured flowers. Very often, honeysuckle is associated with this sign.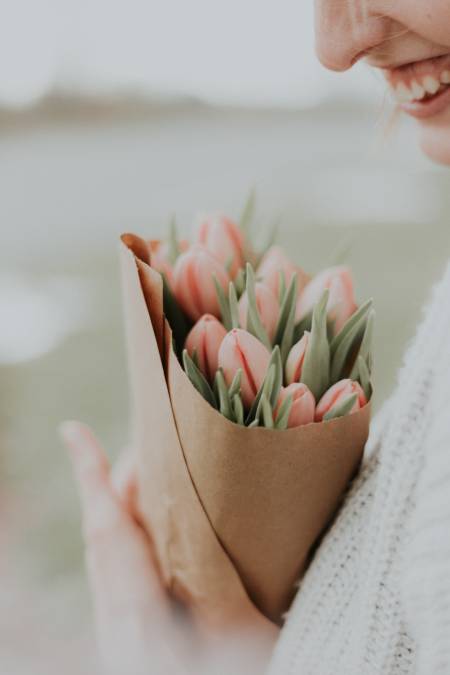 Taurus (21.4.-21.5.)
People born under the sign of a Taurus are cheerful, friendly and communicative. For this sign, the flowers should be tied into a brightly coloured round bouquet in which the individual aromas blend into a pleasant and less pronounced blend without obvious dominance. Therefore, the selection should focus on smaller flowers such as smaller roses, daffodils, daisies or violets.
Gemini (22.5.-21.6.)
As an artist and very cheerful, Gemini likes small flowers of delicate scents and pale shades. Ideal for them are lilies, lilies of the valley or carnations with meadow flowers. Gemini bouquets, however, should be varied in pale colours.
Cancer (22.6.-22.7.)
Cancer are very sensitive and romantic and therefore prefer flowers decorated in red, pink and purple shades. As for the scent, you will win a Cancer with piercing tones of roses, irises or peonies. The bouquet should then be completed with shades of grey or white, so it is advisable to combine it with lilies, for example.
Leo (23.7.-22.8.)
For confident and energetic Leo, bouquets with dominant large flowers such as gerberas of different colours, chrysanthemums, orchids and above all sunflowers are suitable.
Virgo (23.8.-22.9.)
Virgins are vigorous detailers who love order and peace. Therefore, bouquets are also suitable, of low shades and smaller flowers. The virgin bouquet should be composed of lavender, forget-me-not, hydrangea or smaller roses, very fragrant and modest.
Libra (23.9.-23.10.)
Like Cancer, Libra are very romantic. It is ideal for them to choose smaller flowers of subtle shades such as pink roses, hydrangeas, camellias or white lilies.
Scorpio (24.10.-22.11)
Flowers for passionate and intellectual Scorpion should be darker, full of fiery colours - red, orange or yellow. Roses or orchids are especially suitable for the bouquet.
Sagittarius (23.11.-21.12)
Powerful and independent Sagittarius love flowers that are low-maintenance and long-lasting. You will succeed with simple bouquets of colourful larger flowers such as roses or carnations.
Capricorn (22.12.-20.1.)
Capricorn are a quiet and reliable sign that prefers warm red and brown shades combined with pure white. A suitable bouquet should contain natural woody elements with sludge, geranium, lily or cyclamen.
Aquarius (21.1.-20.2.)
For unrestrained Aquarius, colourful larger flowers are suitable. The bouquet should be tied high and made up of elongated stems of coloured gladioles, azaleas or orchids best suited to purple and blue.
Pisces (21.2.-20.3.)
Shy and closed Pisces especially like bouquets in blue and green shades. Freesia or dahlias are suitable.
Each bouquet prepared in this way has its own specific aroma, which is pleasant by the individual sign. This can guide you in choosing the right perfume with a floral scent (such as Chloe or Chanel), which will beautifully complete a gift.